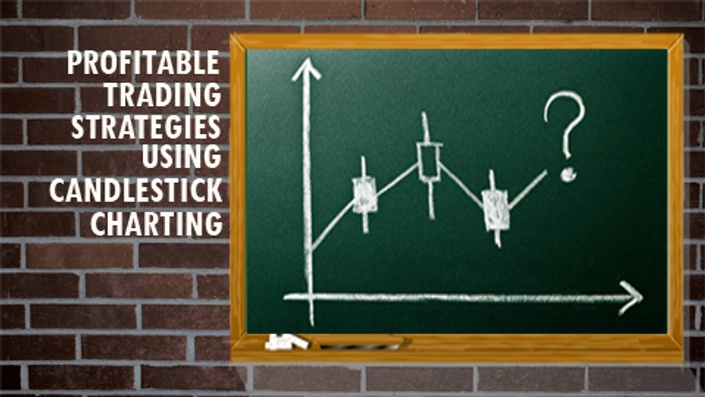 Profitable Trading Strategies Using Candlestick Charting
Candlestick Charting Strategies to grow your wealth
Enroll in Course
About This Course
This is a comprehensive and complete course on the nature of candlestick charting. The dozens of illustrations include each type of candlestick and what it reveals; reversal and continuation signals; and more. Each section concludes with a self-test and a certificate is issued at the end of the course.
The course is designed for all of those intent on improving their ability to read price charts. This includes experienced traders who have not yet developed an effective method for using candlestick signals in their own trading program.
The candlestick has become the default format for chart analysis; however, many traders have only a rudimentary understanding of what each candlestick and group of candlesticks reveals.
In fact, as this course demonstrates, it is possible to anticipate price reversal or continuation by locating applicable signals for initial and confirmation signs, and as a result, to improve timing of entry and exit.

By the conclusion of this course, you should be able to locate actionable candlestick signals, better understand what is likely to occur next, and combine candlesticks with other technical signals to forecast price movement.


Outline:
Module 1 – The Basic Attributes of Candlesticks
Module 2 – Single Candlestick Signs
Module 3 – Double Candlestick Moves
Module 4 – Complex Stick Patterns
Module 5 – Reversal Analysis Based on Candlesticks
Module 6 – Volume and Volatility
Module 7– Set-Up Signals
Module 8 – Swing Trading with Candlesticks
Module 9 – Trends and Trendlines
Assessments
Bonus - The Options Alchemist - a book of Michael C. Thomsett
This short novel covers the adventures of a mentor and his protege, as they explore the world of options. Each lesson is cloaked in a concept of alchemy, with a related options observation. The story unfolds over many years as the younger man learns from the master. At the end of each chapter, the key points are summarized and the true meaning of alchemy is translated into wisdom about options trading.
Your Instructor
Michael C. Thomsett has written dozens of books, specializing in technical analysis. He has written three books on the topic of candlestick charting ( Trading with Candlesticks, FT Press; Profiting from Technical Analysis and Candlestick Indicators, FT Press; and Bloomberg Visual Guide to Candlestick Charting, John Wiley & Sons).
Thomsett also publishes extensively on the topic of options trading, trend analysis, and other technical subjects.
He also is a frequent public speaker at seminars and conventions for investment audiences and teaches at the New York Institute of Finance and with Moody's Analytics
Recent Results
Jordan Goodman, Author, Fast Profits in Hard Times

Average investors will be able to put Thomsett's advice to use right away and substantially improve their trading returns
Michael Thomsett is an expert technical analyst and trader who, more importantly, can communicate often complex subjects in a way the reader can apply effectively and profitably
Scott Kyle, CEO, Coastwise Capital Group and Author, The Power Curve

More Testimonials
"I sourced Michael to write a course on Technical analysis as a result of the recommendation of a friend. Michael did an amazing job. He was able to put together the course in a timely fashion and to my client's satisfaction. In addition, Michael, has always been accurate in his time frames for completion, thorough in his approach, and exceptionally professional. My client is very happy. Would I use Michael again? ABSOLUTELY! " Jeff Gibby, Senior Business Development, Thomson Reuters

"Michael is a real pro. He delivers thorough, strong content and is always on time. He knows the content inside and out and can also explain it in an easy-to-understand manner. He's a pleasure to work with." Laura Walsh, Senior Finance Acquisitions Editor, John Wiley and Sons
"It is my sincere privilege to write this recommendation on behalf of colleague Michael Thomsett. I recently had the pleasure of exploring various avenues for collaboration with Michael with respect to risk mitigation in the financial sector. He is an extremely well accomplished and respected author, blogger, and scholar in his field." Jonathan Dudak, Principal at HUMINT Group International
"I've worked with Michael Thomsett on numerous book projects–mostly books he wrote as well as a few that he ghosted. He is the most dependable writer, usually delivering before the deadline. He is knowledgeable about investing, especially options and trading. Michael is particularly adept at writing about complex subjects so that almost everyone, regardless of experience is able to understand the concepts." Debra Englander, Editorial Director, John Wiley & Sons
"In addition to having a brilliant career as an author of scores of books in various genres, Michael Thomsett is generous in volunteering to share his knowledge and expertise with other authors and support the literary community. I highly recommend Michael if you are looking for a sharp mind and a willing spirit." Julie Schoerke, Principal, JKScommunications, A Literary Publicity Firm
"Michael is sharp — one of the best writers I know, and easy to work with. Punctual with copy, an expert editor, but more than anything his proactive attitude, sharp wit and knowledge of all topics financial and otherwise is outstanding." Mo Keenan-Mason, Publicity Chair/Artist, Windsor Arts Council
"I have been very fortunate to work with Michael for a number of years. During that time he has served as a successful author, ghost writer, developmental editor and technical reviewer. He is knowledgeable, reliable, and pleasant to work with. I would recommend him highly to anyone." Jim Boyd , Executive Editor, Pearson Education
"When I was an acquisitions editor at Amacom Books, I signed Michael to write "The Little Black Book of Business Math." This one book soon morphed into the highly successful "Little Black Books" series, and Michael authored every title. Not only was Michael a pleasure to work with, but he also was one of those rare authors who deliver intelligent, polished prose on deadline. He also has the ability to convey often complicated topics in an accessible, engaging way–and he's incredibly prolific. I highly recommend Michael as an author, consultant, blogger and business person. " Nancy J. Brandwein , Writer and Editor
"Michael was and is a great author–both in terms of his knowledge base and in terms of his adherence to deadlines and commitment to his books. It was a pleasure to work with him. " Tula Batanchiev, Editorial Assistant, John Wiley and Sons
"Fundamental investing is the approach used by most individual investors and professional money managers, and it is a way of revealing the worth of a company's stock. Michael Thomsett has taken it even further to help the investor find the true earnings of a company. It takes time and thorough analysis, but it's worth every second of time spent digging further into the financials." Kenneth S. Janke, Chairman, National Association of Investors Corporation (NAIC)
Frequently Asked Questions
1. Why and how this course will help both beginners and experienced investors in generating wealth?
The essential information about candlesticks is designed to identify specific patterns in price, and their meaning in terms of likely trend development. Trends may continue or reverse, and dozens of candlesticks distinguish these trend patterns In addition to the specific patterns that candlesticks present, they are valuable as confirmation tools for other traditional technical signals. These include well-known signals like double tops or bottoms, head and shoulders, price gaps, and moves above resistance or below support.
2. What is the basic advantage of the candlestick?
Signals come in many shapes and sizes. However, when a signal occurs in close proximity to resistance or support, the candlestick is especially worth paying attention to. At these proximity levels, reversal is at its highest likelihood. However, if price moves through these boundaries and is confirmed by continuation candlestick signals, then a new trading range is also strongly forecast. Candlesticks offer an advantage over other technical signals. The combination of a daily trading range represented by the size of shadows, with the breadth between opening and closing prices represented by the real body, present a compelling visual summary of the nature of current price movement and likely next step.
3. What if I am unhappy with the course?
We would never want you to be unhappy! If you are unsatisfied with your purchase, contact us in the first 30 days and we will give you a full refund.
4. What evidence can you offer to explain how candlesticks are so successful?
I conducted a two-year study in a virtual portfolio, based on options trades and with timing relying on candlestick reversal and continuation signals. This study was extensive, with 578 trades opened and closed. Of those, more than 91% were profitable. And the average rate of return was 35% per year. An assumed portfolio of $100,000 grew by more than $75,000 in this experiment.
The details of this, accompanied by the theory behind it, relied on the strength of 10 highly reliable candlestick signals and confirmation. It is documented in a paper being published later this year, "Signal correlation applied to charting techniques: Conditions to generate consistently profitable trades." This is being published in the peer-reviewedJournal of Technical Analysis (JOTA).