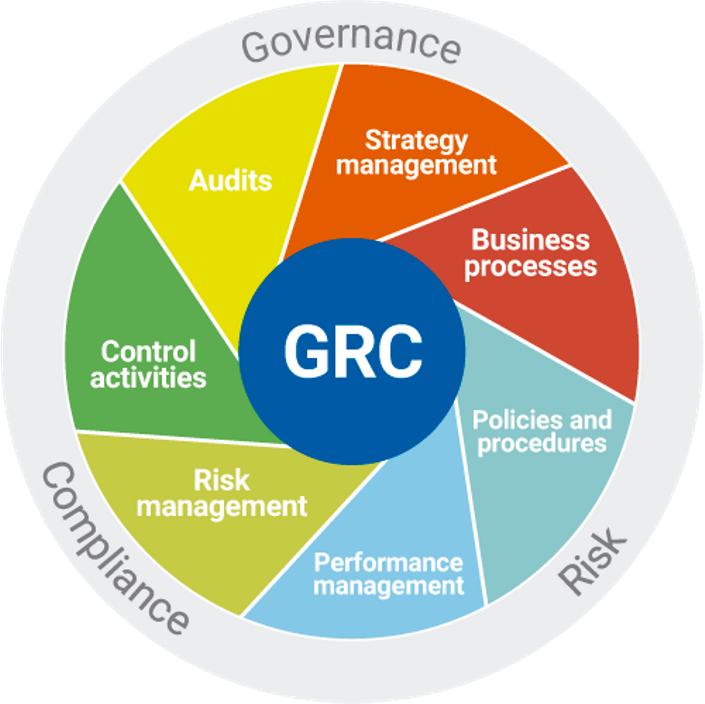 Establish an Effective IT Governance, Risk and Compliance (GRC) Framework - Organization and Responsibilities
Learn how how to develop a great GRC program that ensures proper governance, risk management and compliance management of all IT systems and processes
Enroll in Course
What You Will Learn

This training program will discuss how to develop a great GRC program that ensures proper governance, risk management and compliance management of all IT systems and processes that support the business operations.
Governance and an overall management approach to IT risk
Governance and risk management and effective processes
Risk management and identifying, analyzing and responding
Compliance and knowing which standards and regulations are key to your organization
Why You Should Attend
An organization that does not have a good framework to manage and monitor compliance with a range of IT regulations and standards can find themselves facing fines, loss of certifications, and worse. Organizations face more and more compliance challenges every year, and 2017 is no different.
As the dependency of business operations on IT increases, as well as a demand for security of data, there are additional complexities, exposing organizations to additional risks and threats. What's more, undefined vulnerabilities can have an immediate effect on the continuity of the organization.
This webinar will cover governance and an overall management approach to IT risk, while updating attendees on compliance and knowing which standards and regulations are key to your organization.

Outline:
Adopting a systematic approach to risk tracking to enhance the effectiveness of the cyber incident program
Outlining the critical actions to take if an event affects the company or its partners
Understanding an organizations' susceptibility to a cyber attack
Cyber incident response: Getting started, research, training, testing and maintaining
Standards and best practices: ISO 27001, ISO 27035, ISO 27005. NIST, FFIEC, HIPPA and HITRUST
Who Will Benefit:

CEOs, Board Members, and Audit or Corporate Governance Committee Members
CFOs, Controllers, and Accounting Professionals
CIOs,CFO,CIO,CSO, CTOs and IT Professionals
Chief Compliance Officers (CCOs), Chief Risk Officers (CROs)
Legal Counsel, Human Resources and Public Relations
Internal and External Auditors
Senior Risk Management and Operational Risk Officers
Consultants and Risk, Compliance and Governance Advisors
Compliance Specialists
Compliance, Risk Management and Governance Product Vendors
Quality Assurance Managers
Technology Managers
Information Security Managers
Any line manager or employee responsible for developing and deploying governance and compliance programs
Your Instructor

Dr. Michael C. Redmond, PhD, is a certified project manager, PMP, has two masters' certifications in business continuity/disaster recovery MBCP and FBCI and is certified in emergency management.
She is active in cyber security and holds multiple ISO certifications (ISO/IEC 27001 Information Security Management, ISO/IEC 27032 Lead Cyber Security Manger, ISO/IEC 27035 Security Incident Response, ISO/IEC 22301 Business Continuity Management Systems, ISO/IEC 21500 Project Management, and ISO/IEC 41001 Environmental Management).
She is an international consultant, speaker and published author.

Her past experience includes 13 years as a senior manager with Deloitte, KPMG and Chubb in the areas of: compliance, crisis management, business continuity, disaster recovery, emergency management, internal audit/ gap analysis.
She was a business continuity/disaster recovery manager with the Bank of New York.
She consults for clients in diverse industries such as banking, manufacturing, pharmaceutical, hospitals, government agencies, colleges and universities, law firms, and media.
Course Curriculum
Lecture 1
Available in days
days after you enroll
Main Module
Available in days
days after you enroll

Recent Results

Nashath Abdulla - IT Business Analyst
It is rare that you come across a Knowledge power house like Michael. I was fortunate enough to work with Michael as our consulting partner. Her expertise in the field of Risk Management, Audits, and Cyber-attack is immense and helped us to create the awareness and recurrently nurture companies. Thank you Michael.

- Ahmad Saleem, Senior Consultant - Advisory Services - Risk Assurance at EY

I attended a webinar on the topic of "How to apply ISO 27001 using a top down, risk-based approach"delivered by Michael C. Redmond. I am really delighted by the way of the thought processing during the seminar and in the end, intellectual and precise response to QA session. I will definitely recommend everyone to attend future webinars and sessions, since personally I will do it onward. Really appreciate your efforts!.
Frequently Asked Questions
How to join the course?
You will be contacted soon via email you provided during registration. In this email, you will get further instructions on how to proceed with the training.